When you want to convert your basement into a rental unit, a St. Louis basement contractor can help you with many tasks. There is a lot to do, from checking zoning regulations to hiring the right contractor for the job, but you can succeed. However, before you begin with your basement conversion project in St. Louis, you need to consider the different factors that will affect your outcome.
Converting a Basement into a Rental Unit
There's a lot that goes into converting a basement into a rental unit. The following steps will give you an idea of how to prepare for basement remodel projects regardless of their scope.
Learn About the Legalities
You'll need to check with your local zoning board to ensure you're allowed to rent out a basement before you do anything else. If you can convert your basement, you must first apply for a building permit. Your zoning department will also update you on building codes and other necessary information such as:
The number of tenants you can rent the basement to at one time
The required amount of entryways and exits in the basement
Other safety regulations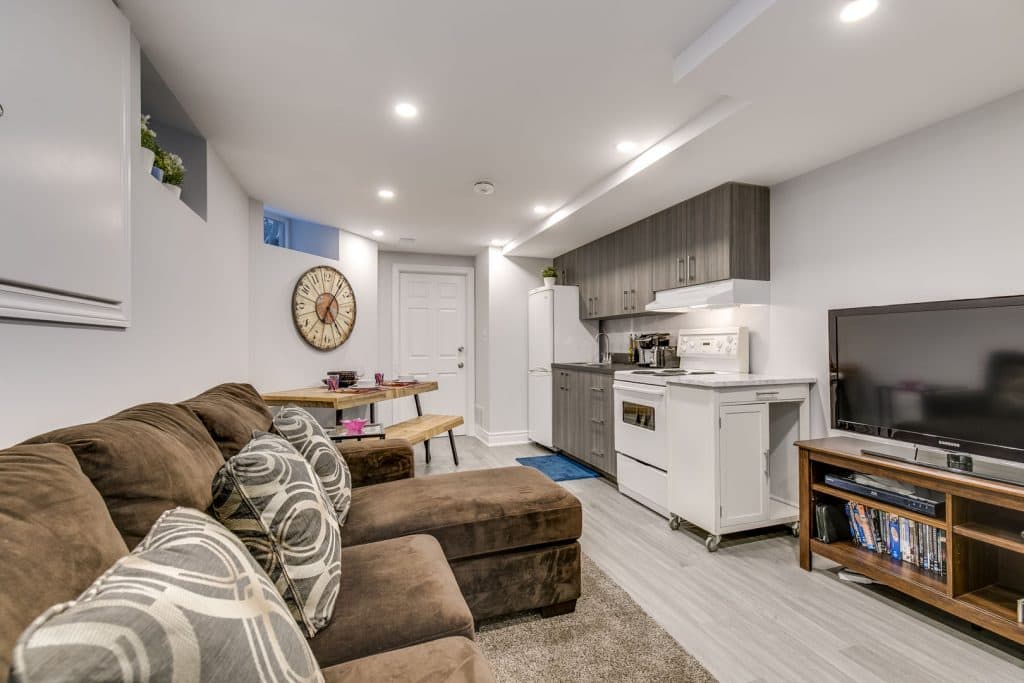 You'll also need to keep tenants safe and comfortable with safety devices such as smoke and carbon monoxide detectors, as well as wall insulation if your basement doesn't have temperature control. Keeping track of your tax deductibles and taxable expenses helps ensure your preparation is legal and under budget.
Inspect the Space
An inspection of your space will give you an idea of what to fix. Approach this part from a tenant's point of view: a tenant wouldn't want to live in a cramped, damp, moldy basement. Use your better judgment to make the basement comfortable, clean, and livable for your tenants with ample space and the proper solutions.
Here are some things to check for during your inspection:
Leaks and water damage: Water from insufficient draining or HVAC leaks can cause significant damage to wood, concrete, and other materials. Resolve these issues to protect your tenants and their belongings before they move in.
Mold and mildew: High humidity and wet surfaces breed mold and mildew, and basements tend to be quite damp. Kill mold yourself or hire a professional.
Ceiling height: Your basement's ceiling may be too low depending on your zoning laws. To solve this issue, lower the basement floor or extend your home's foundation upwards.
Structural damage: Damage to your basement's walls or support beams can slow down the conversion process as they are vital in supporting your home.
Heating and cooling performance: If your basement already has an HVAC system, ensure it operates properly. Don't forget to call your local HVAC technician for service if you don't already receive regular HVAC maintenance.
Pest infestation: Check that you don't have a rodent or insect infestation in your basement and repair all damage from pests to prevent them from coming back.
If you discover severe issues during your inspection that goes beyond your repair capabilities, call the proper service provider to resolve any HVAC issues, pest infestation, or other problems.
Plan Out Your Basement Apartment
You'll also need to make a blueprint of your basement apartment. Typical basement design includes the following:
A bedroom
A kitchen
A bathroom
Closets or storage space
Ensure there is plenty of light in your basement, including natural sources. A bright indoor environment opens up many avenues for floor plans and furnishing options. Taking advantage of an open floor plan will make your basement feel roomier, while neutral tones will also brighten up a dark basement apartment.
Set Your Budget
Your budget must cover remodeling to meet tenant needs as well as your own. Most basement remodels cost anywhere from $30,000 to $100,000, depending on the required repairs and the contractor you choose. Your tenant's monthly rent can cover this amount over time to offset expenses.
Hire a Basement Contractor
Hiring remodeling contractors to convert your basement takes the hassle out of doing the work yourself. A St. Louis basement contractor will fix structural issues, repair other damage, construct walls, and install plumbing, wiring, and furnishings. When you need basement finishing, St. Louis has a top-notch contractor who can make your basement apartment come to life with your plan.
Conclusion
It's worth following the appropriate preliminary steps for successful St. Louis basement remodeling. An aesthetically pleasing, functional basement living space makes for an ideal apartment to rent out for additional income. Doing things correctly the first time helps save you money by eliminating inconveniences and reducing further problems once you're renting out your newly designed basement.
When you need a reliable St. Louis basement contractor, Marvelous Basements and Remodeling will impress you with a beautifully finished basement. Call our office at 636-228-3808 for service.