Quality, Service & Price Working for You
BAsement Finishing & Remodeling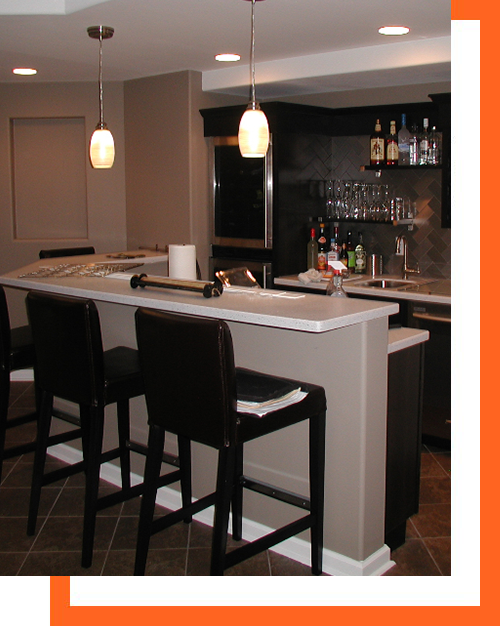 We offer the finest in basement finishing services in St. Louis, MO and its surrounding counties.
Our full-service approach includes a full 5-year warranty on all of our work, and our wall system comes with a 25-year guarantee.
We provide amazing designs and great pricing, all with a very special and unique touch!
We have over 30 years experience and have hundreds of basements finished in the St. Louis area.
We are fully insured, with quality, caring craftsmanship and the highest level of customer service available. And, talk about references. We have many past and present customers that you can talk to for references.
Marvelous Basements & Remodeling LLC also offers design-and-build for not only basement remodeling, but also kitchen and bathroom remodels, room additions, and more! If you're interested in finishing your basement or remodeling your home, give us a call for a free design and estimate.
Call John at 314-704-3562 (office) or 636-485-1376 (cell), or you can send us your info via our online contact form. You'll be delighted with our unique approach to your project needs. And remember, you can always 'trust us with your dream.' Please check out our about page to find out more about what makes us different.
We offer the highest quality of work
INTERVIEW WITH THE OWNER, John turner
Please watch the interview below with company owner John Turner to find out why we are a premier contractor for St. Louis basement remodeling.
What makes Marvelous Basements a great choice for your finished basement? There are true, tangible differences between Marvelous Basements and other contractors. When you are deciding on hiring basement finishing contractor for your next project, it's important that you consider a number of factors.
Learn more about our approach to basement design, and why it's different than other basement finishing contractors. We offer an approach with options that are truly unique.
Choose your own subcontractors? Control your project finances? Work directly with the company owner who has over 30 years of experience? Receive our trade discounts on materials and fixtures? Not many other basement finishing contractors offer these options to their clients, but Marvelous Basements does.
Take a look around our site, especially our gallery, and we're confident that you'll quickly see why we're a leading basement remodeling company in the St. Louis, St. Charles, Jefferson County and Warren County areas!
Whether you need a new home theater or a remodeled basement bathroom, Marvelous Basements has the expertise and the experience to deliver the highest in quality when it comes to basement remodeling. Homeowners have come to rely on us as a premier basement finishing contractor.
Give us a call today to get the basement oasis that you deserve!
TIRED OF THE SAME BORING AND OLD SPACE?
IT'S TIME TO UPDATE YOUR BASEMENT